Evaluation of Adaptation to Climate Change from a Development Perspective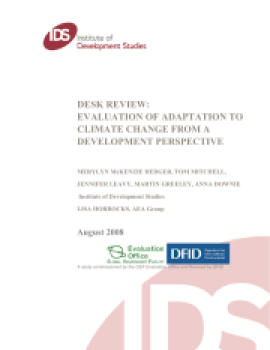 This report was commissioned by the GEF Evaluation Office (EO) and financed by Department for International Development (DFID), as part of the GEF Evaluation Office International Conference on Evaluating Climate Change and Development (Alexandria, May 10th to 13th, 2008).
The aim is to present an overview of approaches relevant to or used for the evaluation of interventions intended to support adaptation to climate change and to identify main gaps in evaluation of adaptation interventions. The report sought answers for the following questions:
What types of interventions can already be considered for evaluation with an 'adaptation lens'?
What additional questions should be asked when applying an 'adaptation lens' to evaluate such interventions?
What indicators of success relating to adaptation have been used in different
types of projects and programmes?