Framework for Monitoring and Evaluation of Adaptation to Climate Change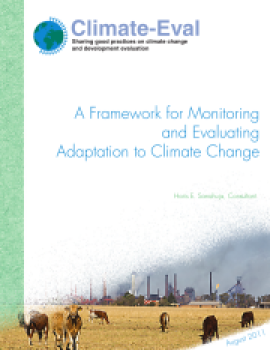 This framework paper is about the application of sound monitoring and evaluation methodologies and processes to initiatives of adaptation to climate change. It is intended as a practical guide to allow for more fluid progress towards capacity development for monitoring and evaluating adaptation to climate change interventions.
The report consists of three parts with numerous sub-sections and appendices. In Part One, the functional structure of the framework is laid forth, primarily. Following, a background context is set with a general review of much of the present thinking, in terms of conceptual discussions. Further, Part One looks at common visions and overall methodologies related to M&E for ACC.
Part Two examines key challenges and opportunities for monitoring and evaluating adaptation to climate change.
Part Three is highly practical, and presents ideas behind similar and key frameworks for M&E for ACC and several methodological case studies, looking at the commonalities from nine national adaptation frameworks, and concludes the main body of the report with summary remarks.
The Appendices include a Compilation of Case Studies, with nine examples of National Frameworks for Adaptation, the elements of National Adaptation Plans of Action (NAPA's), as in accordance with the IPCC / UNFCCC processes, a number of sub-national relevant case studies, and then highlights regarding key stakeholder groups. A directory of related websites is also included in the appendices.